Our second Norfolk night was another sub-zero affair but tucked up beneath sleeping bag and duvet I was warm, comfortable and contented. Condensation however was a bit of an issue with every inside surface of the van coated with a thin film including windows, steel panels and even the dash. This was despite leaving the windows open a crack and just reinforces the need for insulation as our number one priority. For now though no harm was done and thanks to another gloriously sunny morning everything dried off in no time as we cooked breakfast, planned our day ahead and pondered the madness of those next to us who, contrary to all common sense, were indeed camping. As on Saturday the soundtrack was a mixture of Skylarks, Curlew, Mistle Thrush and a distant Greenfinch, the latter sadly worthy of note these days as a result of recent population declines. We probably could have sat their all day but with opportunities for more birdy goodness at every turn we had to drag ourselves away with Holkham our destination.
Anyone who knows Lady Anne's drive has probably experienced that same sense of expectation upon arrival as we did on this occasion. Would there be masses of birds lining both sides or would everything have already moved off into the surrounding countryside? We needn't have worried. Although geese numbers were low there were hundreds if not thousands of Wigeon taking advantage of numerous shallow pools, all busy feeding away and none taking the slightest bit of interest in us passing walkers.
Looking further afield we picked out a pair of Grey Partridge, always nice to see, as well as numerous Redshanks, Common Snipe and pleasingly our first Ruff of the trip. These are normally a reliable Titchwell tick but I presume high water levels there had put them off. Egyptian Geese too were present, a controversial coloniser but one which I find quite attractive and having a population of precisely zero here in south Wales a species I always hunt out when over this way. Alas they were all a little distant for photos, definitely not something I could say about one particular Pink-footed Goose. We first spotted it feeding just over the fence from where we'd parked and fully expected it to scarper as soon as we approached. Record shots were duly taken but to my amazement this bird showed absolutely no concern and continued feeding as we stood just a few meters away. Utterly spectacular and probably the best views I'm ever likely to get of these winter visitors.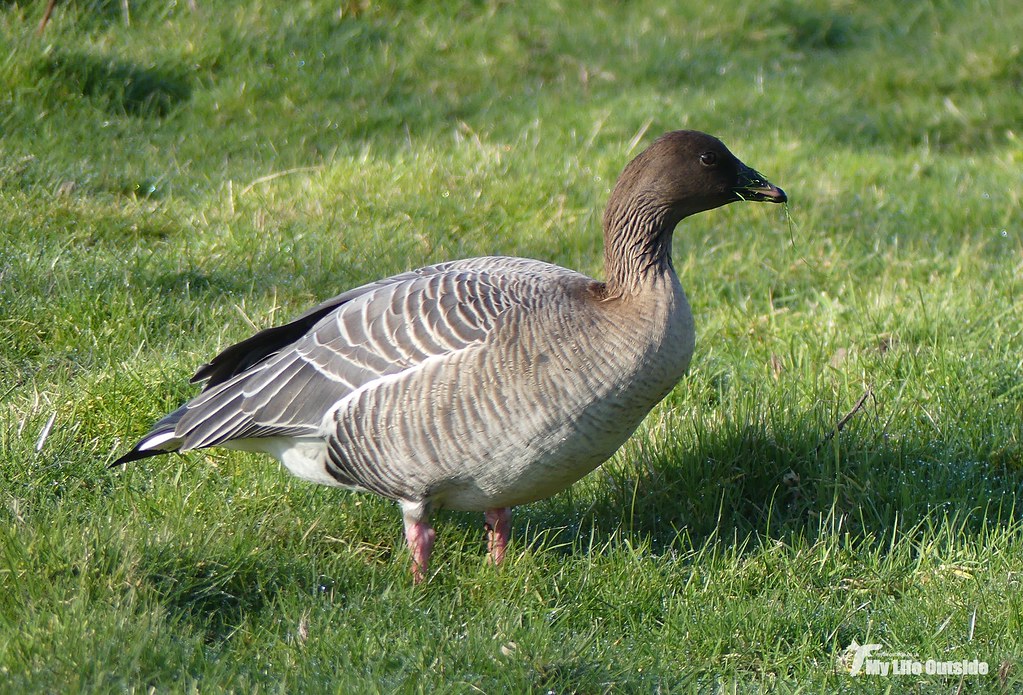 With time marching on next up was Holkham Gap, home of late to a small flock of Shorelarks which we resolutely failed to find. Not to worry as there was plenty more to keep us occupied including the slightly odd sight of Rock Pipits feeding amongst the dunes. As on Saturday the tide at this point was well out meaning a long walk to the water's edge but we were rewarded with yet more Great Crested Grebes and not one but two Red-throated Divers, the latter of which we ID'd from flight views only. I think we might finally be getting on top of our sea-birds, at least the commoner species that is. Other than a couple of Common Gulls and the ever present Cormorants that was about as interesting as things got before we turned inland, crossed the dunes and entered Holkham forest.
There we were greeted by a trio of Red Kites circling overhead before our next star turn from Tower Hide. Here the usual Norfolk candidates of Marsh Harrier, Lapwing, Little Egret and Curlew were all showing well but it was the Great White Egret which we were really pleased to see. Feeding on a pond some distance away it was really too far for a photograph but I just couldn't resist. Even so you still can't get a sense of the scale of this species, its pristine white plumage standing out from miles away.
The next hide was a little quieter but did give us great views of two Roe Deer feeding out in the open, a species which had been popping up at regular intervals across the weekend. We'd seen them in fields alongside roads, walking through the forest and now here amongst the reeds. Has there been a population explosion recently or were we just incredibly lucky?
By now it was mid-afternoon and with a seven hour drive ahead of us, if we were lucky, it was really time to call it a day. With nature though you should never drop your guard and just as we were nearing the van that old adage proved its worth. First up was a Treecreeper taking our weekend total to 92 species before a Goldcrest popped up ahead. Feeding avidly amongst the undergrowth it was a tiny bundle of perfection and led to me getting probably my favourite image from across the two days. What a way to finish.
Back on the road we had many hours in which to ponder and digest the weekend. It had re-confirmed, if such a thing were needed, that north Norfolk is still one of my favourite parts of Britain and secondly that buying a van was definitely the right move at this stage in our lives. Apart from having easily the most comfortable seats of any car I've ever driven it just opens up so many new possibilities that I can't wait for summer to arrive. I'll do a full introduction post very soon along with detailing our initial plans and all being well we should have a busy year ahead that will almost certainly involve another trip or two to this fantastic stretch of Norfolk.