After the splurge of outings that characterised the first few weeks of this year, the past seven days have been relatively quiet. Saturday was spent out in the garden putting up some Christsmas presents including a bat box and several new bird feeders. A Raven spent much of the day noisily patrolling the area, having a few battles with the resident Crows and Jackdaws in the process. During the afternoon two Red Kites were circling overhead for an hour or so which is the first time that I have seen them back here since before the cold snap. I also heard a Green Woodpecker calling from somewhere up Gopa Hill but unfortunately didn't have the time to go and search it out.
On Sunday I was working a few hours overtime which did have the advantage of delivering three Redwings feeding on the grass next to one of the paths. The local Peregrine Falcon was also seen from the office yesterday around lunchtime and another Red Kite was low over the fields at Pontlliw on my way in this morning. Not a bad collection of birds considering the circumstances.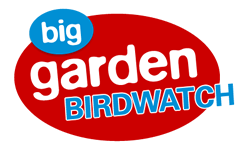 This weekemd should be back to normal with a trip to Rhossili planned for Saturday (providing the BBC Torchwood filmcrew have left), and on Sunday I shall be taking part in the RSPB's Big Garden Birdwatch. I have high hopes that the new feeders will bring in the goodies for the hour that we will be recording, and weather permitting I am also going to try and photograph every species that we see. If you want more information on the event then click the picture on the left to be taken to the RSPB site.