I spent the couple of hours after work today stood watching a Bobolink play its best hide and seek game with thirty or so other people along the banks of Eglwys Nunydd near Port Talbot. I must stress that normally my evenings do not involve such strange activities but this time I was willing to make an exception. For a Bobolink. Which I am not afraid to admit I had to google to find out what one actually was after receiving a tweet from Rare Bird Alerts on my iPhone (modern technology really does have its advantages). As it turns out a Bobolink is an American (well that explains the rather strange name) member of the Blackbird family, and has only been recorded 29 times in the UK previously. Therefore to have one pop up literally down the road is quite remarkable.
During my visit the bird was being rather elusive spending most if its time in the long grass along the side of the reservoir next to the M4. Thanks to a couple of shall we say 'forward' individuals I got a couple of cracking flight views as it was flushed from the undergrowth before it disappeared once more. These brief displays showed off the yellowish underside perfectly but I couldn't really tick it as a lifer before I had seen enough features for a positive identification myself. Fortunately the Bobolink landed with its head visible just before I left giving me superb views and the all important characteristics that I wanted to see. Unfortunately I wasn't able to get any photographs partly because it was so difficult to pin down but mainly because I didn't have my camera with me. You will have to make do with a poor camera phone shot of the crowd instead. The bird was somewhere in the grass to the right.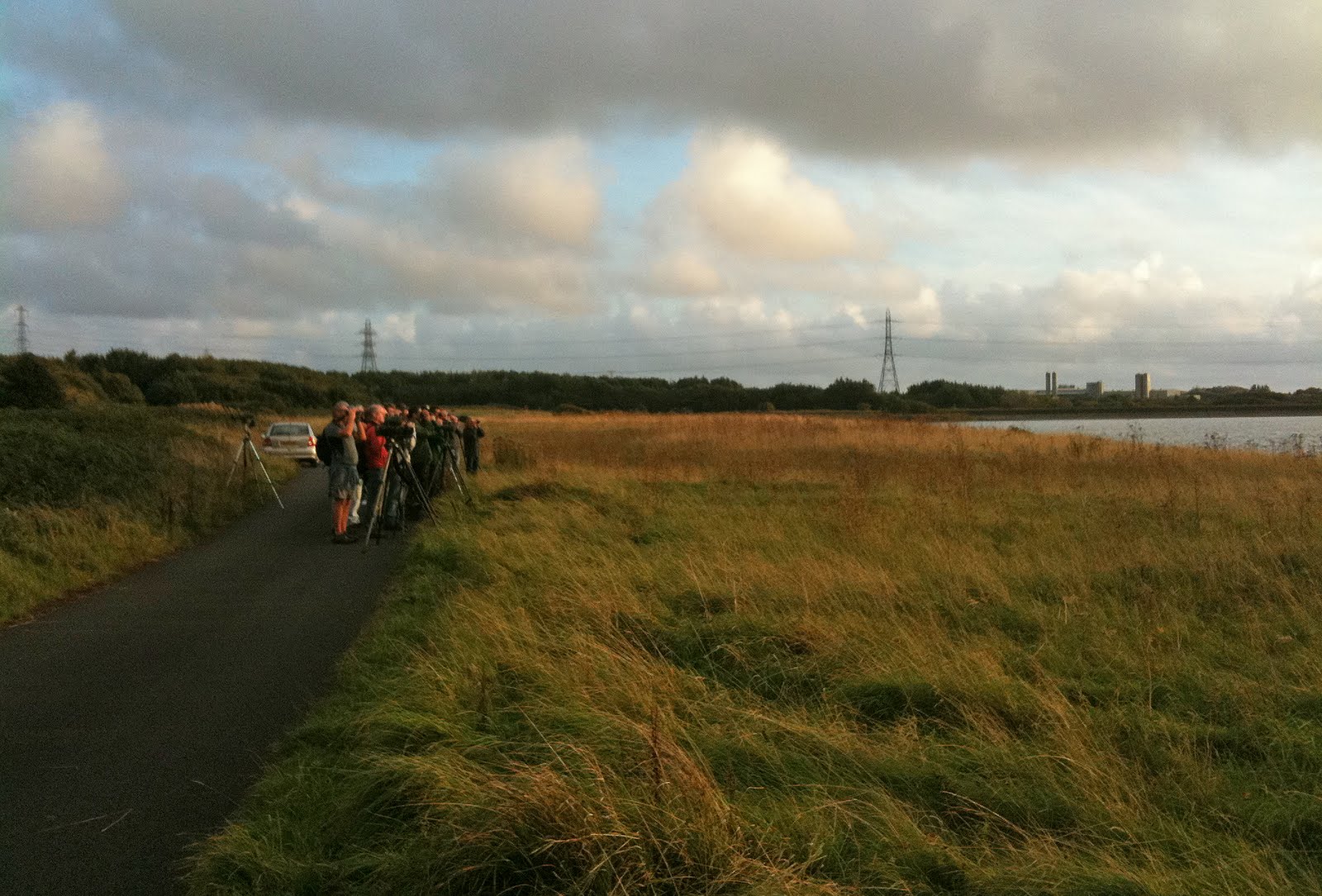 The strangest thing is that I didn't even know where Eglwys Nunydd was until yesterday. I woke up on Sunday and after a bit of research realised that there was a Grey Phalarope there that was begging to be seen. We duly headed over and got superb views down to a couple of feet and some good photographs to boot (look out for my post on this later in the week). To have a Bobolink turn up the very next day at the same location is amazing and frankly a bit unbelievable. Definitely a place I will be revisiting regularly.