After being relatively lazy for the last week or so I fancied a good long walk out in the countryside, but being fortunate to live in a place with so many options I was having trouble deciding where to go. A quick look at the Glamorgan birds sightings page had my mind quickly made up as a Black-necked Grebe had been seen on the lake at Kenfig NNR for the last couple of days. I have never seen a rarer Grebe beyond the normal Little and Great Crested varieties so the possibility of adding my fourth life tick in three weeks and the opportunity for a good walk was too good a combination to miss.
I arrived at ten and popped into the nearest hide to see what was about. I wasn't expecting much luck as searching for a small diving duck on the largest natural lake in South Wales was never going to be easy. Remarkably I was on to the bird within a couple of minutes. Unfortunately it was on the far side of the lake from where I was. Nevertheless it was a new tick and I'd had good views but I decided to see if I could get closer to at least take a record photograph. What followed was four hours of walking across dunes, marsh and flooded paths as I travelled around the lake three times trying to get a closer view. The best I got was on my first pass where the Grebe happened to swim past a small gap in the reeds allowing me to snatch a single shot. As you can see below though the blighter was looking the other way. I tried in vain to see it again but the Grebe stayed well hidden for the rest of the day apart from when I was on the far side of the lake from it. Typical! I have included a map showing the area that it seems to frequent (long red line) and I recommend looking here first if you try and find it yourself. The two hides are shown as red squares.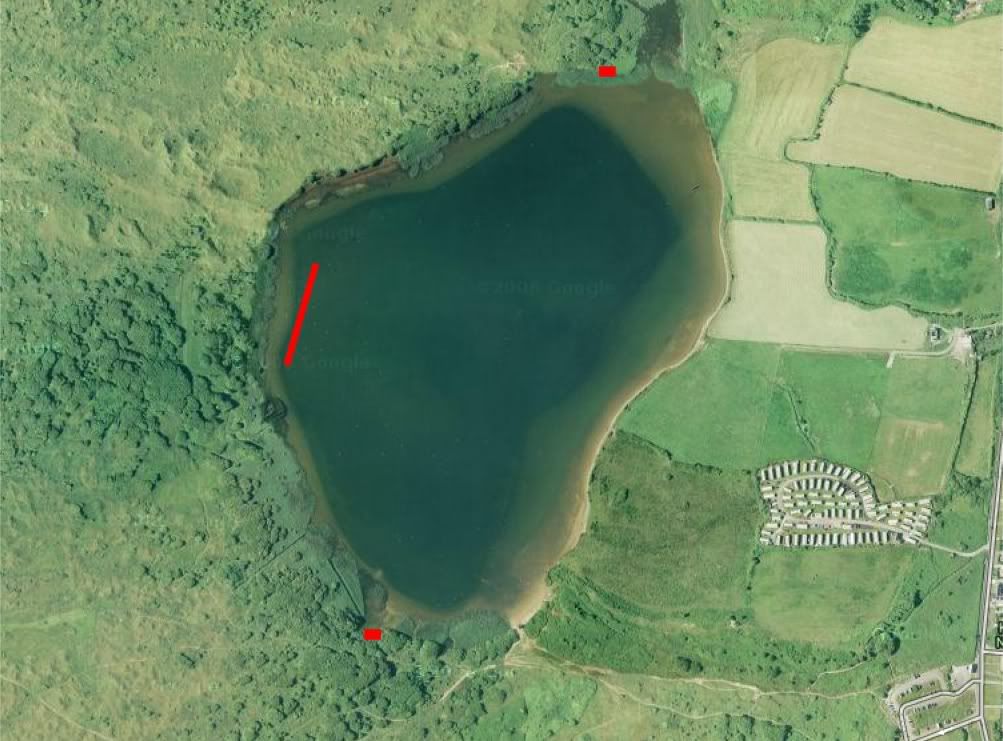 Whilst on my walks I heard four of five Cettis Warbler singing from the reeds which are my first this year. A very attractive male Reed Bunting was also around as were numerous small flocks of Long Tailed Tits. I was also treated to prolonged views of a Kingfisher from the southern hide as it sat in the nearby willow tree for a good ten minutes before flying off over the reeds. The lake itself had several Goldeneye displaying to each other as well as a small flock of Shovellers which was nice to see. There was also a male Cormorant in full breeding plumage sat on the remains of the old boat house.
On a side note the first spring migrants are starting to make their way into the area although I have yet to catch up with any myself. Reports of the first Swallow came in from just a few miles away from my house, whilst the first Wheatear was also seen today at Sker farm near Kenfig. I shall certainly be keeping my eyes open as the sky has seemed very empty without the Swifts, Martins and Swallows these past few months.